DAVAO CITY, Dec.17 (PIA) — Addressing shortage of school chairs and disposing plastic wastes are answered in one solution. It is by converting these plastics into chairs and other useful furniture.
Engineer Winchester Lemen and his company, Winder Recycling Company with its plant in Sasa processes around 90 tons of plastic trash and transforms them using Lemen's invention- a thermal heating technology into school chairs, benches, picnic tables and lounge chairs.
Lemen said the business started in 2001 where he saw the need to recycle plastics and invented a technology to help in recycling.
"This invention is a product of Philippine ingenuity, I conceptualized it to start reducing the number of plastic wastes in our country. This was my idea to help the country," Lemen said.
A single school chair is made up of 30 kilos of plastic or the equivalent of 10,000 candy wrappers or equal to 2,181 sando bags or 300 bottles of mineral water, these are common plastic wastes being dumped in landfills or in canals and waterways.
"We are also saving a three-year old tree from being cut which could have been used to create a chair," Lemen said.
A native of Marikina, Lemen moved to Davao when he married a Dabawenya. He set up the Envirotech Waste Reycling Inc. Together with a partner, he put up the Winder Recycling Inc. with a 4,000 square meter factory in Sasa near the Port of Davao.
The wastes come from Davao City and nearby towns like in Tagum, Padada and Sulop. Winder together with Junior Chamber International (JCI) Davaoeña Dabadaba chapter is conducting a plastic wastes drive where they aim to gather collected plastic wastes such as sando bags, plastic containers, bottles, sachets, wrappers and food packaging.
Impact to plastic waste problem
The technology will be of great help to Davao City which is handling huge amounts of trash, an average of 540 to 600 tons a day. Most of these are plastic wastes and these end up in waterways and into the sea. Plastics has been tagged as responsible for the deaths of whales in Davao Gulf.
According to Darrel Blatchley of the Bone Collector Museum who conducts necropsy on dead whales, of the 58 whale bodies recovered in Davao Gulf in a span of nine months about 54 died due to being trapped in fishing nets or they swallowed plastics.
In the city-wide coastal cleanup held May of this year, volunteers collected 3,000 sacks of garbage, many of these are plastics.
The City Government under Mayor Sara Duterte is eyeing to ban the use of single-use plastics in the city. Solid Waste Management is part of the priorities under Mayor Duterte.
From hoops to recycling
Engr. Lemen finished mechanical engineering at the Mapua Institute of Technology in the 1990s. Aside from academics he was part of the school basketball varsity junior and senior teams. He counts Mapua collegiate star player and PBA superstar Alvin Patrimonio as a friend.
"He was with the seniors basketball team, when I was still in the junior team," Lemen recalls.
He was part of the 1991 Mapua senior basketball team which copped the National Collegiate Athletic Association (NCAA) championship. Among his contemporaries include Emmanuel "Boybits" Victoria, Johnny Abarrientos, Benny Cheng among many other professional basketball luminaries.
In 1998 after a stint with the Philippine Navy basketball team he decided to use his mechanical engineering degree to jumpstart into waste recycling.
He still didn't abandon basketball though as he is being eyed to coach the Davao City Mapua school- the Malayan Colleges of Mindanao collegiate basketball team.
In college he looked up to his father Marcelo who was one of the pioneers of plastic Styrofoam in the country. Marcelo Lemen with his company Europlastico made Styrofoam products in the 1970s.
After basketball, he created Envirotech Recycling Company and in 2017 along with a partner they established Winder Recycling Company here in Davao.
Lemen says he needs to sell the school chairs to create sustainability as the company employs about 30 workers. Aside from minimizing the plastic trash problem it also provides livelihood for workers.
"You are not just buying the product, but also you are contributing to the health of the environment," Lemen tells his sales pitch to potential buyers.
Quality Plastic Furniture
Winder makes school chairs and other furniture. They are so durable that Lemen confidently adds a 20-year warranty to the product they sold. Once a furniture is broken before the warranty ends, they would replace it for free.
Winder benches can be great in parks and other outdoor places as they can withstand elements such as weather.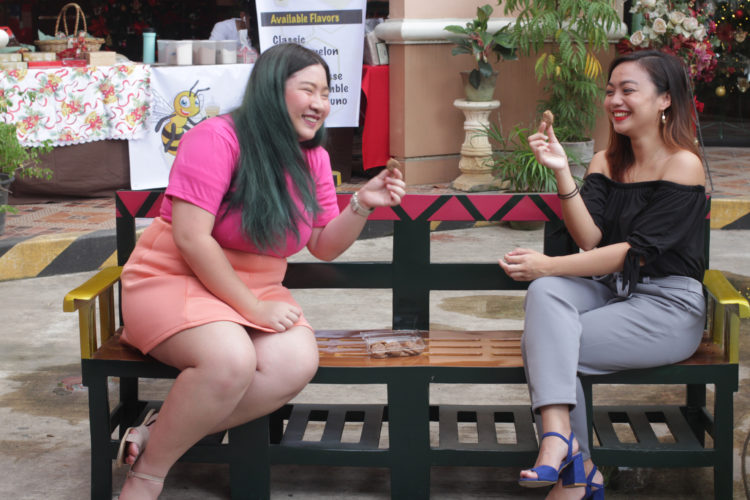 Prices are also competitive compared to other plastic manufacturers. A Winder school chair costs P1,700 as compared to P2,500 from other makers. Wooden chairs cost around P200 lesser than Winder but it is offset by the fact that the production of wooden chairs need trees to be cut.
Aside from chairs, they also make pallets and other things such as skateboards. One skateboard recycled from plastic wastes was given to 2018 Asian Games skateboarding gold medalist Margielyn Didal.
One of the company's biggest plans is to make a pre-fab modular home made up of plastic wastes.
Lemen says despite the move to ban single-use plastics, the plastic wastes in the country is increasing as many Filipinos are still using wrappers and sachets.
"Lahat ng plastics magagamit natin," (We use all types of plastics) Lemen describes their technology which can significantly reduce the amount of plastics being dumped in the environment.
To Donate
Winder does not buy plastic wastes but relies on donations, for those wanting to give their plastic wastes, Winder and JCI Davaoeña Dabadaba has set-up collection points for plastic wastes.
Drop off points are at Winder Recycling Company in Sasa (in front of Samal Ferry terminal) or at Davao Grande Medical Foundation, Ground Floor, Barangay Hall Wilfredo Aquino, Bolcan St., Agdao, Davao City (in front of Puentespina Orchid Garden).
SOURCE: (PIA/RG Alama)
From plastic wastes to useful chairs | Philippine Information Agency (pia.gov.ph)