He still remembers his father telling him that one day, he will become the next biggest plastics manufacturer in the country.
Winchester O. Lemen took his father's word so seriously that he ended up recycling soft plastic wastes mined from landfills and turning these into classroom chairs, park benches, and soon, perhaps, a house.
Lemen's father, Marcelo, who owned EuroPlastico, which is based in Malinta District in Davao City, was among the first to manufacture Styrofoam products in the country in the 1970s.
By recycling soft plastics from discarded shampoo sachets, candy and junk food wrappers, Lemen, president and chief executive officer of Envirotech Waste Recycling Inc., says he can easily reduce the volume of waste clogging drainage canals and filling the landfills of major towns and cities in the country.
Envirotech aims to be a part of the movement to regain ecological intelligence and balance. It has a plant in Bunawan District, also in Davao City.
Soft plastics
"What we collect are only soft plastics, not the hard plastics, which still has value for junk shops," says Lemen, a mechanical engineer by profession. His chairs, park benches and decking pieces can easily be mistaken for real wood, and could last up to 20 years, way above the five-year average life-span of wooden chairs, he says.
Lemen is trying to convince as many local government units in the country to allow him to make use of the existing wastes in their landfill for his raw materials.
A councilor in Quezon City, who ordered 60 pieces of Lemen's products, plans to sponsor a resolution banning wooden chairs in city classrooms to protect the environment. "It's his way of helping save the trees," Lemen says.
"One small chair made entirely of recycled plastics can help save one 3-year-old tree, while helping fill the shortage of chairs in the classroom," he says.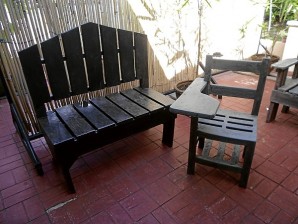 A year after settling in Davao City in 2001, Lemen put up his first company, Redwood Logistics Corp., to produce corner posts for banana plantations out of discarded polybag plastics. But the cost of the materials kept going up so he started looking for other possible sources.
Tagum landfill
In a landfill in Tagum City in Davao del Norte, he found a rich repository of discarded plastics. In 2010, Tagum Mayor Rey Uy allowed him to make use of the garbage.
Over eight months, Lemen hauled 800 tons of mixed plastic wastes, reducing largely the volume of trash.
"I first recycled (the garbage) into school chairs. When I was able to make the perfect chair for schools, the Quezon City councilor gave his order," he says.
One chair costs only P700, a bit lower than the P900 for an armchair made of wood and steel. Plastic monobloc chairs cost P1,100 apiece.
Other areas in the country followed Tagum. Envirotech now has an agreement with the barangay chair of Calinan District in Davao City; the towns of Panabo, Kapalong and Sto. Tomas in Davao del Norte; Hinatuan in Surigao del Sur; Compostela town in Compostela Valley; Agusan del Sur; Isulan town in Sultan Kudarat; Koronadal City in South Cotabato; and Balut Island in Sarangani.
More inquiries
"From north to south, from Visayas to Luzon, everybody was inquiring about this technology," Lemen says.
He says a town of La Union in Luzon is working on a resolution to give him a place where he can recycle plastic materials. While in Cebu, an Envirotech partner is putting up a plant to convert biodegradable wastes in Mandaue City into biogas, scheduled to start operation next year.
In Davao City, he says, he can help a lot in decreasing its waste volume. The city government had contended with 600 tons of waste a month before it implemented a plastic ban ordinance that reduced the volume to 400 tons.
"After I start in Calinan, hopefully, the rest of the barangays will follow,  I can saturate the lower part of (Davao) city," Lemen says.
Gov't support
Right now, Envirotech can produce 2,000 chairs a month, using the manually pressed system. Lemen is appealing for government help so he can come up with an automated system that will greatly reduce the volume of plastics in the landfill.
The company also produces pavement and walling blocks, and floor and roof tiles, With these products, Lemen says, he plans to make an entire house out of recycled soft plastics.
"The maximum temperature during the day is less than 40 degrees Celsius and is way below the 300 to 500 degrees when plastics begin to melt," he says. "So, it's safe to build a house made entirely of recycled soft plastics."
"It won't be long from now," he says.
Source: Davao City's recycled plastics king | Inquirer News
by Germelina Lacorte | INQUIRER